Property Management Solutions: Building & Facility Systems Maintenance & Replacement
The Holladay Properties Property and Facility Management solutions offer a wide array of services, including maintenance and replacement of key building systems, such as the recent replacement of the chiller at the Minneapolis Heart Foundation Institute Building in Minneapolis, MN.
"With a weight of 6,333 pounds, it was quite the production to watch, as a large crane lifted it over the top of the seven story building to a very tight resting area on the opposite side of the building, which was out of site of the crane operator," Property Manager, Jolene Butzke said. "As you can see by the photos, there was no room for error as it was being lowered into its final destination."
The Minneapolis Property Management team was aided in this effort by the Nashville-based Engineering team and Director of Engineering, Fred Scott, who regularly works with the property managers and maintenance staff on his assigned portfolio of buildings, which includes 32 properties across the nation. With a project like this, surprises are bound to occur, but the Holladay team is ready and willing to meet all challenges.
For this project, the major challenge was the weather. The team had originally scheduled the installation for the prior weekend, but due to high winds, during a snow storm, it had to be postponed to the following weekend. Fred Scott, who had traveled to Minneapolis for the original installation date, spent two December weekends in a row in the area in the dead of a Minnesota winter.
In the image below, the crane lifts the chiller up and over the building.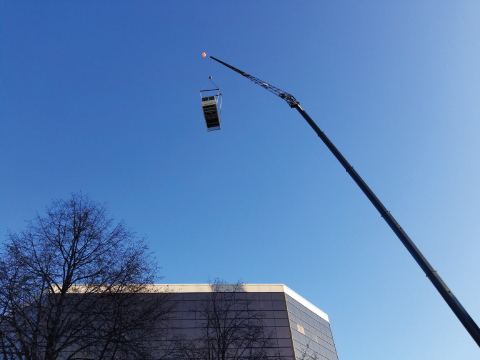 In the next image, the crane begins setting the chiller in place.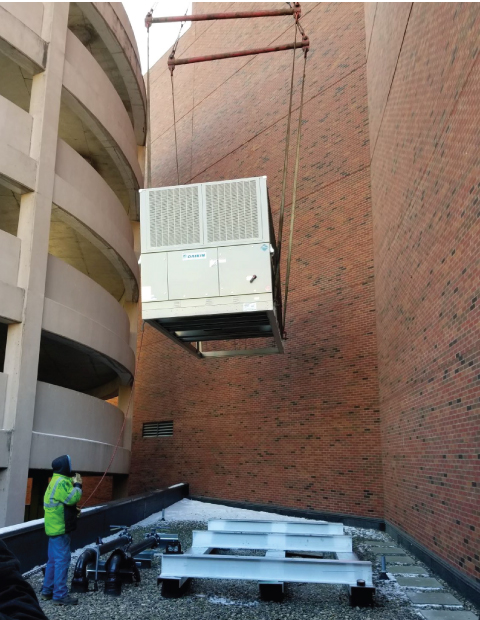 In the following image, the team helps set the chiller in place.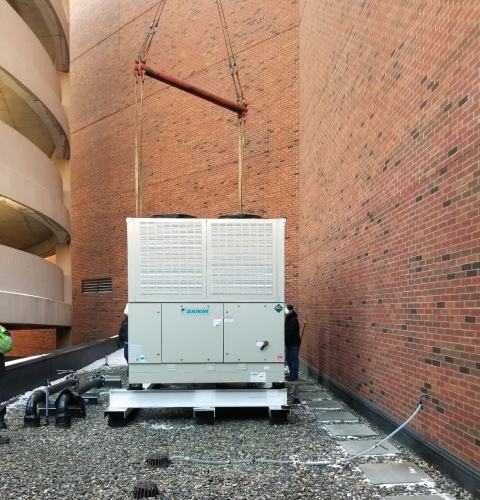 With the Holladay Properties Management Team on your side, you can rest assured that you're property is in good hands. As a property owner and developer, our ability to integrate the entire real estate management and construction process, coupled with our deep operational experience and knowledge base, ensures that Holladay Properties can deliver solutions that add value and maximize your bottom line.
If you're in need of a Property Manager or you'd like to learn more about what we can do for you, contact us.