Written by Amanda Watson, Marketing Director (Portage, IN)
Holladay Properties has long considered industrial to be its "bread and butter", but in recent years a new market segment is emerging as a prime business: Hospitality.
Holladay entered the hospitality business in 1991, when the firm planned and developed its first hotel, a joint venture with the Sisters of the Holy Cross, the Inn at Saint Mary's Hotel & Suites in South Bend, Ind. Located on the campus of St. Mary's College within the Notre Dame community, this boutique hotel quickly became the one of the finest independent hotels in the market.
Since 1991, Holladay has developed multiple internationally branded hotels, as well as conference and meeting spaces, as opportunities have presented themselves. These developments have usually been incorporated in larger land developments or in conjunction with major partners.
Holladay has a long history of highly successful joint venture partners with numerous large and reputable institutions, including hospitality related companies. Our hospitality partners include The Sisters of the Holy Cross, Schahet Hotels, Gateway Hospitality Group, and Guest Services, Inc.
Holladay's strength in the design, financing, construction, and management of hospitality projects, as well as our range of experience provides a competitive advantage that sets us apart from other developers. Over the last decade, Holladay's Hospitality portfolio has grown substantially, with the majority of that growth taking place in that past two years.
By the end of 2018, Holladay will own and maintain an active role in the management of 10 hotels in 8 different markets, with at least three more hotels expected to break ground in 2017.
These hotels include: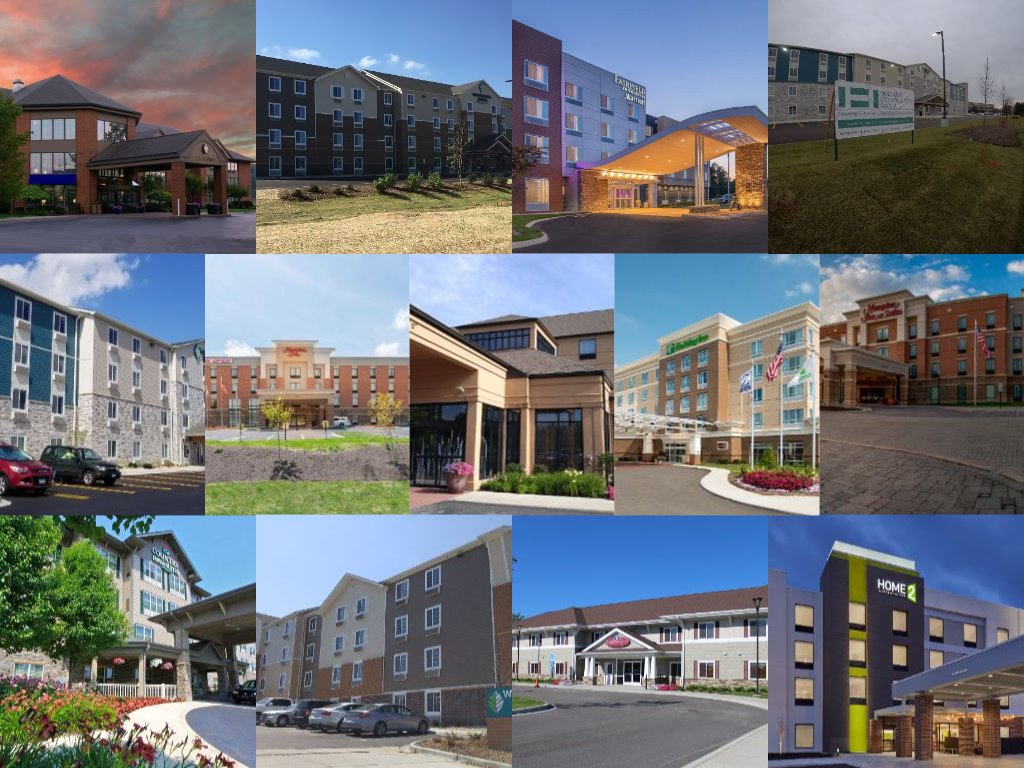 Holladay Hospitality has grown to be recognized as one of the premier hotel owners and developers in the Midwest. As proven leaders in the development of a wide spectrum of hotel brands, the firm puts pride in its ability to achieve success through strong, hands on management.
Holladay also distinguishes itself by being in the cutting edge of innovation. From development and construction to management and customer service, Holladay aims to consistently be on the cutting edge of technology and design, ensuring that our properties remain highly marketable and guest friendly.
Hotels are an integral part of Holladay's development and expansion plans in the near future. Contact Jeff Arthur, SVP of Hospitality, for more information or click below to view our Holladay Hospitality brochure.