We want to wish everyone a very happy Thanksgiving. In honor of the holiday, we're sharing another inspiring edition of our popular "Thankful for…" series! Continue reading below for some sincere reflections from employees representing offices throughout our company about what they are thankful for this year. Enjoy!
Marcy Coffman, Executive Assistant/Office Manager (Nashville, TN)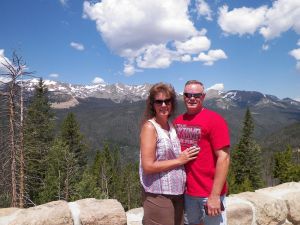 "Always, I am thankful that we live in a country where we are free to work, play, and think as we choose. We are blessed to have fun, loving, and supportive family and friends. And, I am grateful that my husband (Donnie) and I are fortunate to have jobs that we like, that provide us with a great life and good health to enjoy it.
In 2017, I am thankful that our daughter married her best friend in July in the mountains of Colorado (photo was taken in Rocky Mountain National Park), and they are building a bright future together. And that our son is raising our 2-year-old grandson with family values and an appreciation for the beautiful outdoors. I am grateful that we checked off bucket list items by going to the Daytona 500 and visiting Savannah, Hilton Head, and Charleston this year. But I am mostly blessed to have the physical and emotional strength to support the many family and friends currently dealing with personal challenges."
Derek Naber, Developer (Indianapolis, IN)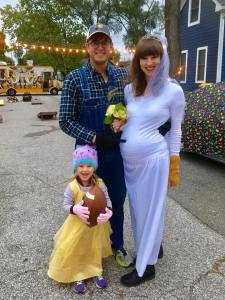 "I am thankful for my growing family (Halloween photo 2017) with new baby Naber due in early December!
Looking forward to a fun and exciting holidays here at the end of the year!
Plus a lack of sleep"¦"
Benton Smothers, Vice President – Development (Nashville, TN)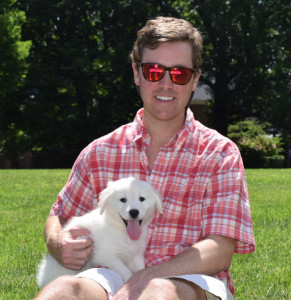 "I'm thankful for:
Health
Good family
My darling wife Stuart
The vodka martini
Electricity
Capitalism
Bodies of water
American history
Challenges and learning through experience
Mulligans
The smell of freshly cut grass
My sidekick and chief wingnut of our family, our retriever Lily (pictured at 8 weeks and about 60 lbs lighter)
Happy Thanksgiving everyone!"
A.J. Monroe, Vice President – Planning & Development (Portage, IN)
"I am Thankful for –
the unwavering love and support of family and friends;
the joys and challenges of being a husband / father / coach;
the opportunity to become part of the Holladay Properties Team and the warm welcome I have received; and
health, happiness and peace of mind.
Wishing one and all a Happy Thanksgiving Holiday!"
Kathy Williams, Director of Administration (South Bend, IN)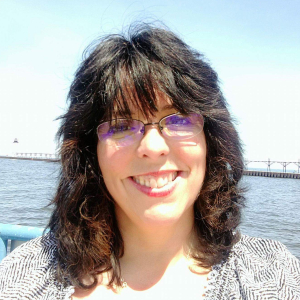 "20 things I am thankful for
My husband. He is the most remarkable, caring, handsome man I've ever met. I am truly grateful for all he has brought to my life.
My son. He is my biggest blessing. Being a mom has been the most rewarding experience of my life.
My family. They are my foundation and very often my voice of reason.
Love. It's completely enchanting and amazing, isn't it?
Music. It speaks to my soul. It is my escape.
Freedom. I am SO lucky to live in a country that offers so much freedom.
My job. I love what I do and who I do it with. Holladay and the people within are incredible.
Health. Having good health allows me to freely participate in life. My life would be drastically different without it.
Ability to travel. So much to see, so little time. As many of you know, I work in order to fund my travels. I love the feeling of discovering new places.
Dogs. They are amazing creatures — I love you, Bella.
Laughte There is little better in this world than the sound of laughter.
Sunshine. Ahhh the feeling of sunshine on my face. We haven't seen near enough of it lately and I miss it greatly!!!
Patience. Something I strive for in my daily life and something I pray that others have for me.
Photographs. A picture is worth a thousand words. There is nothing quite like a brilliant image to capture a moment.
Honesty. It really is the best policy.
Loyalty. Is the most important quality you can have.
Kindness. Even the smallest act or word can change a day around"¦
Peace. Something I seek day in and day out and constantly hope for in this world.
Nature. In all of its glory, brings me the greatest peace.
My God. That He died for me, is always there for me, provides me with unfailing love, never gives up on me and represents a power so awesome that its force cannot and will not be stopped on earth."