By Amanda Watson, Marketing Director (Portage, IN)
Associates from Holladay provided students at the University of Notre Dame's Medoza College of Business with an opportunity to dive into our business and help guide the future of our marketing and business growth for their Spring 2020 Interterm. The class was organized by Paul Phair, VP-Development (South Bend, IN) and Drew Mitchell, VP-Development (LaGrange, IL) of Holladay Properties and Alice Obermiller, Director of Experiential Learning & Leadership Development for Graduate Business Programs of the University of Notre Dame.
"A few years ago, we worked with an Interterm group to help guide our development plans for the Indiana 933 corridor project," Paul Phair said. "We had such a great experience that when we were trying to decide the right place to start for evaluation our marketing and growth strategy, we decided to utilize the program again."
Nine MBA students arrived at the Inn at Saint Mary's Hotel & Suites on Monday, March 2 to learn about Holladay, our business services and products. The students were from a range of backgrounds, including Marketing, SEO, Finance and Accounting, and Real Estate and were excited by the opportunity to examine Holladay's marketing and growth strategies.
After breakfast at the hotel, the MBA students received information about Holladay from various associates throughout the company.
John Phair, Chief Development Officer (South Bend, IN), introduced the group to Holladay with a look at the company's history and overview of the firm's services, location, and structure.
Paul Phair and Drew Mitchell then gave the group insights into Holladay's development services and portfolio.
Kyle McFarland, Director of Property Management (South Bend, IN) discussed Holladay's Property Management efforts in Indiana and Greater Chicagoland.
Tracy Francis, Director of Brokerage Services (Nashville, TN) and Jeff Ottman, EVP – Operations (Nashville, TN) discussed Holladay's medical office management services, which are based out of the Nashville, TN office.
Lori Kappel, Project Designer (LaGrange, IL) and Drew Mitchell told the group about Holladay's architecture and design services.
The students learned about Holladay Construction Group from Scott Trueblood, the company's President.
Jeff Arthur, SVP – Hospitality (South Bend, IN) and Ken Herman, VP-Hospitality (South Bend, IN) discussed Holladay Hospitality Group and Holladay's history in the hotel sector.
Amanda Watson, Marketing Director (Portage, IN) discussed Holladay's current marketing efforts, including social media, websites, as well as print and digital marketing efforts.
After gaining insights into how Holladay functions and the wide range of products and services we provide, the students broke into groups and spent the next two days evaluating our company and coming up with a Marketing Strategy and Growth Analysis. On Thursday, March 12, the students presented their finding to Holladay associates, again gathered at the Inn at Saint Mary's.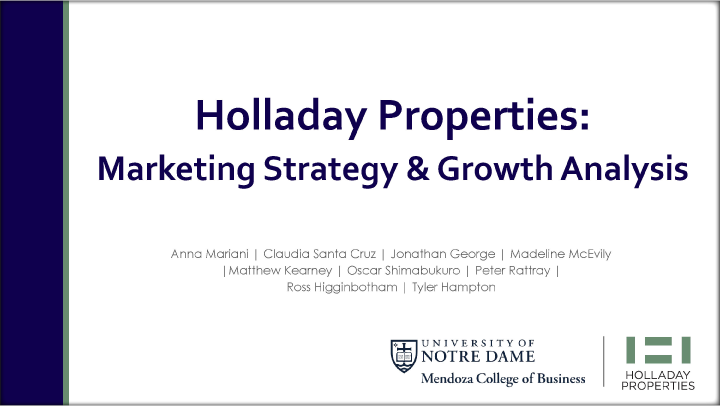 The Marketing Strategy Team included MBA students Anna Mariana, Claudia Santa Cruz, Oscar Shimabukuro and Matthew Kearney. Their presentation included suggestions for an overall marketing strategy, digital marketing tactics, and traditional marketing tactics aligned with Holladay's vision of becoming a 100-year-old company.
"The MBA students had a diverse, multinational and multi-discipline background, which enabled them to provide very broad and holistic recommendations for elevating Holladay's marketing strategy," said Drew Mitchell. "My partners and I were thrilled with the ideation, dialogue, and collaboration that the Interterm format allows, and believe this opportunity not only provided real world experience for the students, but also provided our organization an actionable and realistic framework for executing their strategic recommendations."
The Growth Analytics Team included MBA students Jonathan George, Madeline McEvily, Peter Rattray, Ross Higginbotham, and Tyler Hampton. The group analyzed Holladay's structure, and recommended a plan to realign the firm so that associates would be more invested in the success of the company, not just individual projects. The group also recommended a strategic plan to grow Property Management services, with a focus on industrial and multi-family properties.
As part of the Interterm program, the presentation was evaluated by the Holladay team, which included: Tim Healy, President & CEO (Portage, IN), Paul Phair, Drew Mitchell, Jackie Green, VP-Property Management (South Bend, IN), Scott Trueblood, Jeff Arthur, Lori Kappel and Amanda Watson. 
Participating in the MBA Interterm has given Holladay much to review and valuable feedback and insights to incorporate into the company's business growth plan. We would like thank the group of MBA students who participated and Alice Obermiller for allowing Holladay to be a part of the program.